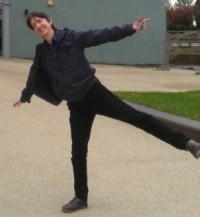 GDS assisted digital lead Alan Rider reflects on some of the best examples he has seen of services' assisted digital support.
It's fair to say that it's been a learning process for all departments and services, and there have been a few bumps in the road along the way.  However, we have seen some great examples of services who are leading the way and showing how assisted digital should be done.
The 'Find an apprenticeship' service in the Skills Funding Agency stands out in my mind as a service that, despite having a mainly younger demographic, really worked at identifying their assisted digital need by researching with a wider range of users in all sorts of locations.  Other services such as Prison Visits, Civil Legal Aid, and Redundancy Payments have also formed a detailed view of their assisted digital users by carrying out research and testing with low skilled users early on in the process.  This informed the design of their assisted digital help and also helped to improve the digital service itself.  All made good use of research tools and techniques, such as offline surveys, developing AD personas, and mapping users' digital skill levels on the digital inclusion scale during research and testing.
Breaking through
There have also been some great examples where departments have developed a central capability to help provide high quality assisted digital support.  Ministry of Justice have taken a portfolio approach with a single focal point for assisted digital looking across all new digital services.  Home Office have put in place a dedicated team of assisted digital researchers working across all digital services to co-ordinate research.  Both approaches have helped to share knowledge and ensure greater consistency, thereby reducing their reliance on our help, which is exactly what we are looking for.
Other services such as Waste Carriers and Student Loans may have struggled initially with developing  their assisted digital support, but they really stepped things up to ensure vulnerable users needs were met by the time they came back in for assessment.  This included further testing and iteration of their proposed support and carrying out in depth research with a wider range of low skilled users to ensure all barriers and needs were identified and taken into account.  We worked closely with them to support this work and it was great to see the progress they made over a short space of time, which meant they passed their service standard assessments with flying colours.
Gold standard
For me though, the 'Gold Standard' for an assisted digital service has to be Rural Payments.  Although they have had to hold back on the full implementation of the digital service, the assisted digital help they put in place was second to none.  Based on an in-depth knowledge of their users' assisted digital needs, the service contacted low skilled users to offer them help, carried out a telephone assessment to define their precise needs, before directing them to either telephone help through their contact centre or face by face assistance.  To provide this, a network of forty nine face by face support centres was put in place across the country - using a mix of the Rural Payment Agency's own offices and those of charity and third party partners.  They even brought in ten mobile satellite units that could be driven out to users in areas with poor broadband reception to provide them with on-the-spot access to the online service!  That's truly impressive.
Marathon not a sprint
Of course it is not just about getting services across the finishing line.  There is more work still to do across government to get assisted digital embedded and users assisted digital needs will evolve over time as more services go live and the level of users online skills change.  There really is a lot to celebrate from the past year and the legacy of these services is that others can learn from them and repeat their successes.   Keep an eye on the GDS assisted digital blog for more best practice examples and case studies.
Follow Assisted Digital on Twitter and don't forget to sign up for email alerts