GDS user researcher Ruben Perez Huidobro has been busy helping the Waste carrier registration service. As this service moved towards being released as a public beta he has been researching the needs of assisted digital users.  Here he describes some of the challenges this has presented and how this has meant going out and about to find offline users to talk to.
"I joined the Waste Carriers project shortly after a mock Digital By Default Service Standard beta assessment. It highlighted that additional work was required to fully understand the assisted digital users' needs of a diverse and complex customer base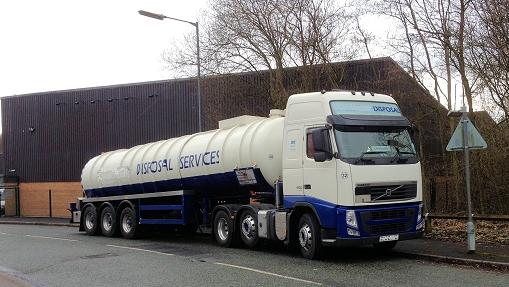 The Challenges
The first challenge that we faced was identifying our assisted digital users. Who and where were they? We knew our project could have significant numbers of assisted digital users. Potential communities in this category may include:
Waste carriers operating from rural areas with limited connectivity
People working in the sector that had low literacy levels
The travelling communities that may have limited access to computers and/or a preference for cash transactions
We also needed to identify why some potential users were unregistered and why. For example, the enforcement team in the Devon and Cornwall Area told us that they found some unregistered waste carriers who didn't even know that they had to be registered.  For a clearer view of what we were up against we asked if we could go along with the enforcement team on compliance checks and meet these users.  The opportunity could arise soon, as the local enforcement team plan to do more partnership working with local authorities and the police doing stop-checks. Plans are being agreed, and we aim to accompany the team to be able to talk to some unregistered waste carriers.
Looking for solutions
In this complex situation we've had to look to multiple sources for information and help. We worked closely with the Environment Agency National Customer Contact Centre (NCCC) in Sheffield to collect insight on the waste carrier user journey and conduct research with users. This included:
Interviewing call centre advisors to capture their experience of talking to users and identify the main issues users call them about.
Doing cognitive walkthroughs of the prototype service with them to identify potential issues for assisted digital users.
Contributing to co-design workshops.  These discussed different solutions, focusing on the content and identifying examples of how advisors were explaining difficult sections of the current online service to users.
Inbound research. Every month the NCCC survey 10% of the calls that they receive. We iterated some of the questions they use, and added new ones to help identify assisted digital users and their issues
Outbound research.  The NCCC called a sample of registered users that used paper forms. We focused on sole traders and partnerships and will continue this research for other user types.
During the course of this research we asked users for permission to contact them again to carry out more in depth research on their assisted digital needs. We also identified industry bodies like the Chartered Institution of Wastes Management (CIWM), where people working in the waste industry go for information and advice. We wanted to find out if they provided any information to non-registered businesses that were carrying waste. They offered us the use of some of their communication channels in order to recruit users for research. This is something we will certainly be following up!
We contacted waste brokers - intermediaries that arrange for others to do the actual carrying of the waste. We found that in most cases non-registered users asked them for help to register or to do the registration on their behalf. So we decided to do two things:
We interviewed and walked through the system with the brokers so we could identify where they, as users, were having problems, and where they envisaged their clients might struggle.
We asked for permission to contact their users so we could carry out research with them on their assisted digital barriers and needs.
We knew that the travelling community was part of our user base and we wanted to carry out specific research with them, but it has proved difficult to make contact. We are not giving up though and will keep looking for other ways to talk to travellers.
We looked at other ways of contacting unregistered assisted digital users, such as using the yellow pages to gather phone numbers, looking in small ads, or doing pop up research in waste disposal areas.  However, we decided it was best to avoid these direct approaches at this stage as users could feel intimidated by being approached so directly and could be given the impression that we are harassing or chasing them to register, potentially driving them away.
So what's next?
Although we hadn't managed to contact all of the users we would have liked, we felt we had enough information to inform decisions on the best channels of assisted digital help to offer to meet user need. These were:
Telephone support through the National Customer Contact Centre.
Face-by-face at Environment Agency Offices including our National Customer Contact Centre
Third parties (Brokers).  There are plans to add an additional address field which will better allow brokers (or any other third party/intermediary) to act as a proxy for those users that need help.
Its not been easy but…
So in conclusion, despite difficulties in getting access to assisted digital users to carry out our research, we managed to gather sufficient information on our assisted digital users to be confident that we can support them in using our new digital by default service. This is great testament to the hard work of the team, but we know we have more work to do with our assisted digital users and have ongoing research planned so we can provide the best possible service for our users."
Follow Ruben and  Assisted Digital on Twitter and don't forget to sign up for Assisted Digital blog email alerts