We recently blogged about work we've been doing to understand assisted digital users and their barriers to using digital services. We talked briefly about using personas as part of our ongoing research with departmental colleagues. I'd like to go into a little more detail about why we created a set of assisted digital user personas and the different ways in which we are using them.
Creating the personas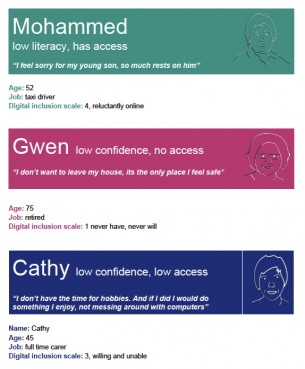 We have been consolidating our assisted digital desk and field research to pull it together in a visual and engaging way. Our research used the BBC Media Literacy 2013 statistic of 21% of the UK population lacking basic online skills as a baseline, in conjunction with reports from the Office of National Statistics (ONS),  Ofcom and Oxford Internet Institute. We supplemented this with field research, including 72 interviews with citizens and service providers from the voluntary and community sectors and local authorities across England.
We wanted to represent the findings of our research in a way that could be easily shared, posted on walls and used to inspire conversations. More importantly, and fundamental to developing assisted digital support, we wanted to help people understand what we mean by 'assisted digital users' and what support they need to access government's digital by default services.
We have developed a set of 8 personas that reflect the citizens who need help to use digital government services as they lack either the means, ability or confidence to do so independently. One of these represents the needs of service providers and the challenges they may also face with the move to digital by default. Collectively the personas highlight the range of complex and hidden assisted digital needs we identified through our research.
The personas in action
In April, the GDS assisted digital team kicked off a series of cross-government workshops to model the provision of assisted digital support. The first workshop focused on the user journeys through the cross-government assisted digital model. The personas were key to this exercise, allowing departments to understand the impacts certain challenges and barriers would have on what a user would need from an assisted digital service.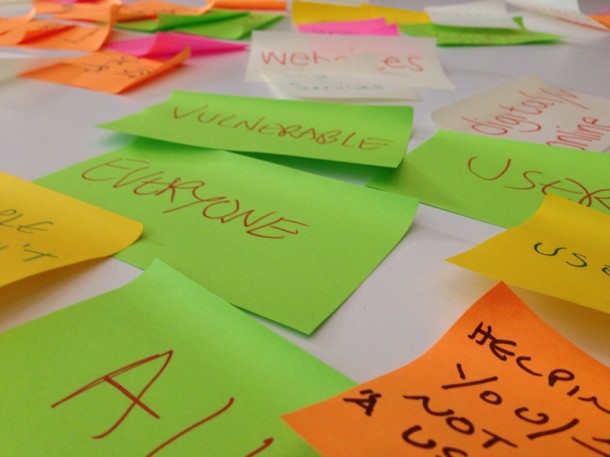 For example, we looked at the persona 'Greg', a farmer with no internet access and low digital skills. The challenges he faces when he completes his application for a Common Agricultural Policy (CAP) payment are largely the same as when he buys a fishing rod licence or completes his self assessment tax return. Presenting the challenges through this persona gave departments the opportunity to see how they could work together to be more efficient in delivering support and to provide a better service for Greg.
Working in small breakout groups, colleagues from departments mapped out assisted digital user journeys for their digital services by plotting small cut-outs of the personas' faces onto large print outs of the assisted digital model. We achieved a number of positive outcomes from this exercise:
we identified commonalities in assisted digital support across both services and personas
we identified concerns and suggestions to improve the model
we addressed questions about departments' assisted digital plans
Communicate and iterate
The personas have really helped us to explain, in an engaging and empathic way, who assisted digital users are and what their key concerns are in accessing digital services. Sticking their pictures on the wall and using them in workshops has also helped to open up wider discussions about what assisted digital support could look like.
We have published the first iteration of the personas on the Government Service Design Manual. In true GDS style we will continue to develop the personas as new data comes in and will blog about how they evolve over time. We will also continue to encourage government departments to use the personas to consider carefully how they design their assisted digital provision to meet vulnerable users' needs.
Follow Angela on Twitter and don't forget to sign up for email alerts