We recently added a page to the Government Digital Inclusion Strategy which maps the digital by default exemplar services, and registration for identity assurance, against the digital inclusion scale. This will help show where these services may be difficult for some people to use.
Exemplar teams, with GDS support, are working to make digital government services simpler, clearer and faster. However, there will still be some people who will need assisted digital support to be able to use our digital services.
Government services should be designed to support people with a wide range of capabilities (digital or otherwise). Service managers, digital delivery teams and policy professionals are doing this by working to understand the current capabilities of their service users and the skills and skill levels needed to use their service.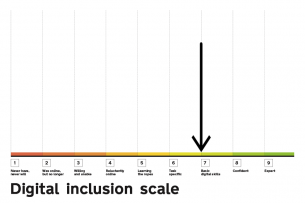 Each service has an estimated rating of between 1 and 9 on the scale. This indicates the level of digital skill a user needs to complete the service successfully.
We have assessed the complexity of each service based on a number of criteria. These include how long the service takes to complete on average and how easy the service is to use on a mobile device.
Services will be able to use the digital inclusion scale and these complexity ratings to understand their users and the level of digital skill required to complete the service. If users do not currently have the level of digital skill that we estimate is required to complete the service, services will need to provide assisted digital support.
Where possible, assisted digital support should include an element of learning to move users up the digital inclusion scale. This means that some users will gain the skills and confidence to use the digital service themselves in the future. This, in conjunction with other digital inclusion activity, will help reduce the number of people lacking digital capability in the UK by 25% by April 2016.
You can find out more about what the digital inclusion team is up to by following their blog.
Follow Richard on Twitter and don't forget to sign up for email alerts