As government becomes digital by default, we recognise that some people are offline and others, whilst online, have limited digital capability. We will encourage everyone who is online to use the digital service independently. The Government Approach to Assisted Digital sets out how we will develop targeted assisted digital provision for the people who really need it.
The assisted digital team has been working with government departments to understand how we can get the right support to the people who need it most - not just people who prefer phone or face to face. To do this across government, services will perform a needs assessment with users to find out why some can't transact online.
Designing assisted digital needs assessment
The first stage in designing needs assessment (or 'triage') for assisted digital is to understand how departments currently assess user needs and what works for their users. As part of this, we have been working with the Lasting power of attorney, Prison visit booking, and Accelerated claims (part of the Civil claims exemplar) services to help test triage as part of their assisted digital pilots.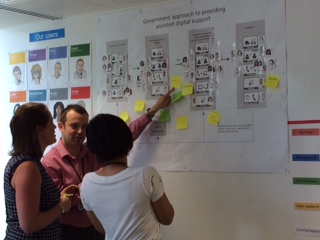 As with the assisted digital support itself, we want users to experience a level of consistency in needs assessment across services. From our work with departments, we learned that a consistent user experience can be achieved through aligning processes and criteria, rather than by creating a single cross-government triage centre or function.
We analysed the commonalities and learnings from what departments currently do and from the testing being done as part of services' assisted digital pilots. We pulled these together to inform and develop a consistent assisted digital triage process, to sit within a broader cross-government assisted digital model.
Cross-government assisted digital model
The cross-government assisted digital model has four stages, of which triage is stage two:
1. Pre-service signposting
This is how services promote their online channel before a user has contacted them, for example, through automated in-queue phone messaging or posters on the high street. Users may not be aware that a service is online so advertising digital services and digital inclusion activity in places users already go is a good way to help get people online and drive digital take-up.
2. Triage
If a user chooses to access help, the second stage of the model is where their needs are identified, for example claiming a benefit. The triage process will explore the barriers the user faces to gaining the outcome they want to achieve, and check that they are eligible for assisted digital support.
There are many reasons why people may need assisted digital support. The triage process gives services a structured opportunity to promote the benefits of using the online service over other routes, offer digital inclusion and training through partners, or establish that a user needs assisted digital help.
3. Assisted transaction
Users with assisted digital needs will move through the model to the assisted transaction stage where they will get support with completing a digital transaction. Assessing needs in this way allows services to give users the right level and type of support, which could be face by face, by phone or in another appropriate way, with someone either inputting the user's data into the digital service on their behalf, or helping them put their data into the digital service themselves.
4. Measurement
It's important for services to gain feedback during every stage of the triage process (as well as after the assisted transaction, if the user gets to this stage). Services should use feedback to improve all elements of the assisted digital service. To make sure the triage process is working for users in directing them to appropriate assisted digital support, services will put a number of measures in place to gain feedback from users themselves, experts such as those in the voluntary and community sector, and government departments involved in the process.
What's next?
The assisted digital, digital inclusion and digital take-up teams are now working alongside departments to refine the assisted digital model as a whole. We will publish the model on the Government Service Design Manual, as further guidance for services in developing assisted digital.
Over the next few months, we will also do more testing on the cross-government triage process. We want do this in real life settings rather than in a lab environment, so we'll start with the three services we've already been working with, and look to test with other services too. We will use the learning to iterate and improve how we assess users' needs for assisted digital.
Follow Roxanne on Twitter and don't forget to sign up for email alerts