The GDS assisted digital team helps departments develop and deliver support for people who can't use digital government services independently. We thought it would be helpful to explain how the team works and who is responsible for what.
The team is lead by Clive Richardson, our Head of Assisted Digital. Our purpose as a team is to make sure that people who are offline or have low digital skills can access and complete the services they need online.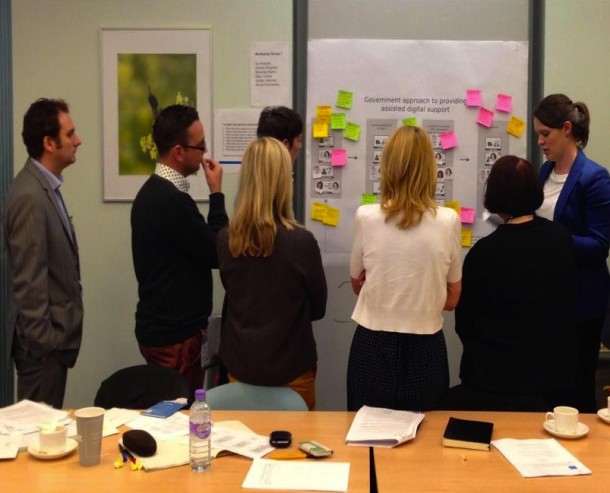 Our goals are to ensure that:
assisted digital is an integral part of developing and delivering digital by default services (starting with the exemplar services, but including non-exemplars too)
assisted digital users have consistent access to high quality support, which can help them with a range of government services
assisted digital is aligned with the government's work on digital inclusion and increasing digital take-up
Supporting government departments
The main people supporting departments on the team are the Transformation Leads and Analysts. They work with policy leads and service teams in departments. The Transformation Leads and Analysts' roles are to help departments:
understand who their assisted digital users are
develop support which meets their needs
test their assisted digital plans with user experts
One way services test their assisted digital plans is by presenting them to the Stakeholder Reference Group. This is a governance group on the assisted digital programme. The group is made up of external organisations who represent and work with assisted digital users.
Our team is working with departments to understand where services' assisted digital requirements overlap. We want to develop a common approach to providing assisted digital across government. The Transformation Leads and Analysts are leading work with commercial colleagues to explore how assisted digital could be delivered externally to government. This would be through the voluntary, private and/or wider public sectors.
The Transformation Leads and Analysts work closely with the GDS Transformation Team. We want to ensure that assisted digital continues to be treated as a vital part of digital service transformation. They are also working with the GDS Identity Assurance Team to design assisted digital for identity assurance.
User research and guidance
Another way the assisted digital team supports departments is through user research. The team is developing a common understanding of who government's assisted digital users are. We have created guidance for services and departments on how to do research with their assisted digital users. The team is also defining best practice for providing high quality assisted digital support.
We are supplementing departments' own user research with a cross-government research project. This looks at assisted digital users and the organisations who currently help them. Through this project, we have developed tools which departments can use to better understand their users. One of these tools is the digital inclusion scale (developed with the GDS Digital Inclusion Team). Another is a set of cross-government assisted digital user personas.
The researchers on the team work with user researchers across GDS and exemplar services. This is to make sure that digital by default services are tested with users who have low digital capability from the start. We also need to ensure that options for assisted digital provision are tested with users in a consistent way across services.
Digital by Default Service Standard assessments
Assisted digital is point 10 on the Digital by Default Service Standard. No redesigned digital service will go live without high-quality, cost-effective assisted digital support. The assisted digital team defines and enforces the standards that services must meet to prove they have this support in place before they can go live.
The assisted digital Assessments Leads work with the GDS Service Assessment Team to define the assisted digital elements in the Service Standard. They also agree how these elements will be assessed (as part of the general assessments process). They have updated the guidance for for departments on assisted digital in the Government Service Design Manual.
The Assessments Leads support the training of Service Managers and Service Standard assessors. Service Managers should be clear about what they need to do to pass assisted digital in the Service Standard. Service Standard assessors should understand how to assess assisted digital against the standard. In addition, the Assessments Leads will themselves take part in assessments of services with a high assisted digital need.
We will be blogging regularly about the work of the team, so stay in touch.
Follow Reema on Twitter and don't forget to sign up for email alerts