Katy Arnold, Head of User Research Profession in the Home Office, talks about the approach they used to identify assisted digital users, which came up with some interesting and unexpected results.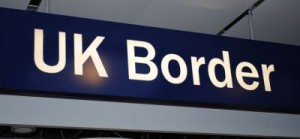 Visas exemplar have been working hard to learn more about assisted digital users. It's a complicated area and we are building multiple products, so it's been a real challenge.
In September 2014 we were gearing up to make our skilled working visa (Tier 2) available as standard. To apply you must have a registered 'sponsor', your potential employer in the UK. We decided to contact all our registered sponsors and see if they could help and the results challenged some deep-rooted assumptions we had made about our users.
We created a short online survey with just three questions and sent it to 30,000 sponsors. The survey asked whether any of their employees/clients specifically asked not to use email. We took this as a proxy for 'unlikely to be confident with computers', and therefore someone who was at the low end of the Digital Inclusion Scale. The last question in the survey was only for sponsors with employees/clients who were 'unlikely to be confident with computers'. We then arranged short 15-20 minute phone interviews, at a time that suited them.
Challenging assumptions
The results were not what we had expected. We had assumed that most of our sponsors are large, high end legal or city employers who are very tech savvy. But of 1332 responses most were from small businesses and/or low volume users, and of those, around 2% said they have clients who specifically ask not to be contacted by email - potential assisted digital users.
We conducted semi-structured interviews with eight sponsors, during two weeks in October 2014. We took notes at every interview and recorded their responses word for word - or as close as possible. We asked about the difficulties faced by their employees/clients, what kind of help they needed and what support, if any, sponsors provided.
A reality check

It's easy to assume that skilled people will all be IT literate, but what we found was that some skilled visa applicants (for example chefs, oil rig workers, small business retailers and church workers) lacked the skills, confidence or ability to get online.
One small legal firm we spoke to, works mainly with engineering companies. They have around three clients a week who don't know how to use a computer and have never had to use one.
Typically this user is a Lineman for an engineering company working on an oil rig. He is well paid and financially stable but grew up before computers and has never learned digital skills. He pays his sponsor's legal representative to do it all for him.
I try to get him by phone but he works four days on, four days off, so it's hard to reach him.  Or he comes in to see us face to face. Or we send someone to go and see him. You realise this is going to be very expensive…"
*Legal representative, Sept 2014 
Another sponsor in a legal firm works with small business retailers, market traders, off-licence owners, mini-cab drivers, and restaurants. They have at least two or three clients a week who ask not to be contacted by email. Having English as a secondary language is a major issue for these users, but fear is the biggest challenge.
They've not grown up with computers and they get scared if they press the wrong button.
*Legal representative, Sept 2014
Looking forward
Currently the needs of these users are largely being met through their sponsors and/or legal representatives, but we also heard lots of evidence of other visa applicants facing difficulties - those who  don't have a sponsor or the ability to pay someone to help out. We will need to make sure assisted digital support is put in place to help these users should they need it.
 We will be following up on the research findings over the coming months to learn more. It's all part of our work to provide a unified approach to meet the needs of these hard-to-reach users.
Follow Katy on Twitter and don't forget to sign up for email alerts