Hello, I'm Angela and I'm a user researcher currently working in the assisted digital team. I joined the team in October to run a user research project with the remit to:
collate existing insight on offline users across government

prototype potential models of assisted digital support based on these users' needs

test these models with offline users at scale
As part of the project, I'll be working closely with Jon Rimmer, a user researcher working in the digital inclusion team. I'll also build on the insights and ideas of the assisted digital research project run with the Helen Hamlyn Centre for Design, and look to explore further some of the specific design ideas that were developed.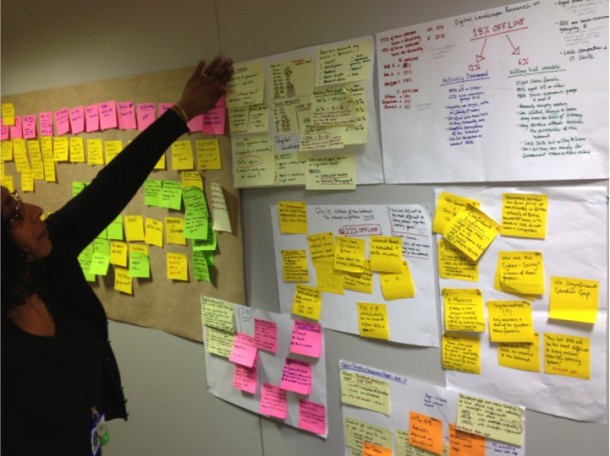 For the past couple of weeks I've been focusing on the first part of my project, and that is to understand who the offline users are across government. To get a rounded perspective, I've been consolidating departments' user insight with additional research from the Office for National Statistics, the Oxford Internet Survey and the GDS Digital Landscape Research.
Mapping the users, mapping the journey
As I've been collecting information about people who are offline, I've also been mapping it out, by clustering users according to their digital ability, access and motivations.
From this clustering exercise, I hope to develop some useful, empathic assisted digital personas that apply across government services. These personas will outline who the users are, the reasons they're not online, the types of government services they interact with, and how they do that with help and support from others. This will help colleagues working on the exemplar services to understand their assisted digital users and their needs.
Developing a scale
It's clear that our users don't just access one type of service or interact with one government department, and that their needs and requirements change over time. We also know that personal and social circumstances often determine the type and level of support they need from the government. To capture this complexity in a meaningful way, I've developed a ten point digital inclusion scale with Jon Rimmer, onto which I'll map the assisted digital personas as I build them.

The scale is very much a draft at the moment, and is likely to change. It will encompass all users of government services, not just those who will need assisted digital support. Currently, it ranges from those that 'never have, never will' be online, through those that are digitally capable and willing to engage with digital government services. It is our aspiration to map a variety of data onto the scale including service types, levels of transaction complexity and the digital skills needed to complete different transactions.
We hope that by visualising all this data we will be able to present a more holistic view of those people that will always require assisted digital support, and those whose level of assistance may lessen over time, as they become increasingly digitally competent. The scale will be a key way in which we can look at how assisted digital support can play a part in improving users' digital skills, and so encourage them to self-serve in future.
Working iteratively
Jon and I are taking an agile approach to our joint desk research, iterating and refining our visual outputs based on feedback and as more research data comes our way.
I'll continue to share my experiences and insights as the user visualisations evolve and as I move to the prototyping and testing stage of the project. In the meantime, I'd welcome your thoughts below.
Follow Angela on Twitter and don't forget to sign up for email alerts