Government is transforming digital services to be so good that people prefer to use them, but what happens when a user can't use the online service? Will they be excluded from the benefits of digital transformation?
The assisted digital team is here to help departments put in place support for users who can't use government digital services independently. We do this through providing guidance and workshops on what a good assisted digital service looks like, information about users and support organisations, and help with testing assisted digital services.
The principles of building a good assisted digital service are no different from building a good digital service. The first step is understanding user needs.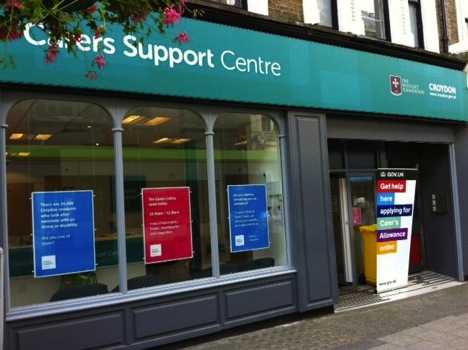 Since January, the Carer's Allowance team in the Department for Work and Pensions (DWP) has been collecting data and conducting user research to identify the barriers that face those who choose not to use the digital service.
There are estimated to be 250,000 new claims annually for Carer's Allowance. In the week to 31st August, digital take-up was 69%, up from 25% in October 2013. This increase is due to improvements that the team have made to the service based on a significant amount of research to better understand user needs. This has made the service simpler, clearer, and faster for users.
The Carer's Allowance assisted digital field research began in June. The aim is to understand what a good face by face assisted digital experience looks like and what a provider needs at the point of providing support. The research is running at the West Lancashire and Croydon carers support centres. Sessions are by appointment and at each session the user is offered assistance to complete the online Carer's Allowance benefit application. A researcher is present at every session to observe.
What we've learned so far
1. User needs
It's been clear that most of the people seeking support have complex lives and situations. It's difficult to say a user only needs help using a computer or accessing the internet. The research has shown that understanding entitlement and eligibility when benefits overlap can also be difficult and confusing for some people. Users are also confused by optional questions and will seek help when these are not clear.
These difficulties can be coupled with the additional stress of caring for loved ones, and sometimes a carer's own hidden disabilities. The consequences of getting the application wrong or a previous negative experience applying for benefits may also impact on whether a user chooses to seek help.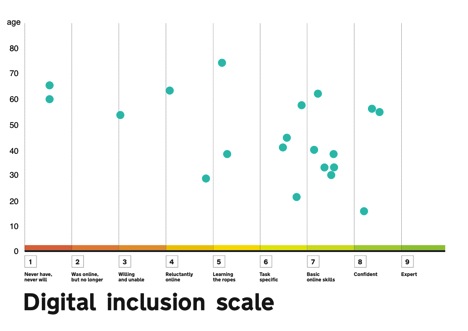 This is the digital inclusion scale with participants mapped onto it from the Carer's Allowance assisted digital research sessions. It shows the digital skills of participants and their age. From this, it's clear that people have come for help that haven't had a user need for digital support.
Supporting users with multiple or complex needs isn't new. We know from our cross-government assisted digital research that people already go to places like carers' organisations, Citizens Advice and Age UK for help with benefit applications - usually submitted through paper claim forms.
It's clear that there's potential to reduce the support required by people that don't really need to access assisted digital services because they have digital skills and can get access to the internet. This is about building better services and also building trust with users.
2. Provider needs
To help us learn what a good assisted digital service might look like we've also been considering environmental factors to support the needs of both clients and advisors.
Having a quiet and private room, in which clients can feel safe to talk openly about personal and financial information is important. Sometimes clients bring the people they are caring for with them, or are accompanied by interpreters, if English is not their spoken language. Having accessible and flexible room layouts can accommodate these varying needs.
Often telephone calls to other organisations, for example, the Carers Allowance Unit, the Disability Living Allowance Helpline or Jobcentre Plus need to be made during the application process, so having a dedicated phone and phone line within easy reach is essential.
Through this research we identified some of the needs of the advisors. These include training to understand the eligibility criteria for Carer's Allowance and assess client needs ahead of scheduled appointments. Advisors also need to have easy access to printers and to GOV.UK, and need the digital skills to confidently use the online service themselves. Finally, they need the time and resource to run support sessions which could be up to an hour long, and a good understanding of the complexities and nuances in overlapping benefits criteria.
Testing assisted digital messaging
At the Carer's Allowance research sites we were also able to test GOV.UK branded messaging to inform users that help was available. Originally we thought we would test this messaging on the GOV.UK digital service, but felt it would be more beneficial to first test with those who were not already using the online service, through physical messaging (eg posters and banners).
It was clear from the research that 'assisted digital' is not a phrase understood by the public. We tested the words 'get help here applying for Carer's Allowance online' on our posters and banners. This was often understood to point to a general advice service and not necessarily help with the digital service. We feel there is more work to do to make this messaging clearer whilst the service continues to improve the digital offering and reduce the demand for benefits advice as part of assisted digital support.
We also found that the crown logo is trusted and users were reassured by messaging where it was included. We will build on this as we continue to test our assisted digital messaging with different variations.
Next Steps
This research will continue until the beginning of September. The Carer's Allowance research team will produce a report of the results, which will inform the specification for a high quality assisted digital service, ensuring no one is excluded from the benefits of digital transformation.
Follow Katie on Twitter and don't forget to sign up for email alerts