Digital by default services need to be designed to include all of their users, including British Citizens with assisted digital needs overseas. In late 2015 the Home Office hosted a workshop on assisted digital overseas, facilitated by Richard Palfery in the assisted digital team.   Here Richard describes the workshop and its impacts.

Researching assisted digital needs overseas
Attendees came from six different departments and 14 different services. In the first part of the workshop, services openly shared what they knew about their overseas users' assisted digital needs.   There were mixed levels of experience of assisted digital research and the support needs discovered.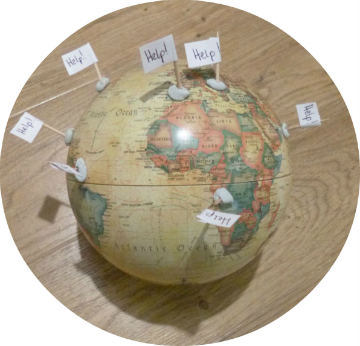 Some services had detailed information from years of research, whilst others were new services, in discovery and just starting their research.  For some services, the numbers of people overseas likely to need assisted digital support were large, but for others the numbers were very low. Some services were experienced at doing research overseas so happily shared their top tips and techniques. Home Office have lots of experience of research in this area and highlight several tips on research overseas in this excellent blog by Bernard Tyers, published whilst carrying out research with users in Kuwait.
Assisted digital support overseas
In the second half of the workshop, services discussed how to deliver assisted digital support overseas. Some services wanted to clarify what the service standard requires in terms of assisted digital support overseas. The Government Service Design Manual states that "Assisted digital support needs to be available to service users in Britain, or British citizens who are living overseas, who cannot access or complete a user journey on their own".
A few services are already delivering assisted digital support overseas so had experience to share of how this works in practice. After discussing the currently available routes to getting assisted digital support overseas it was concluded that sharing of resources in this area may be beneficial and that research to test hypotheses in this area would be useful.
Outcomes following the workshop
The workshop has had many outcomes. Awareness of the issues of researching and delivering assisted digital overseas has increased.  Researchers agreed to ask participants abroad if they'd be happy to help with research for another service.  This could save services a great deal of time and money.  Research is now being shared between services, with contact details of places to go being passed on. A recent overseas research trip by one service included research for another.
Finally, this workshop acted as a blueprint for further cross-government workshops on assisted digital. These have included researching assisted digital needs for businesses and an assisted digital retrospective workshop.  The message from all of these is that sharing really works, so if you're working on something tricky, don't be afraid to set up your own cross-government workshop where you're likely to find many others with valuable knowledge and experience to share.
Follow Richard Palfery on Twitter and sign up for our email alerts to read our future blogs about pilots and other assisted digital content.