An increasing number of services are coming in for assessments against the Digital by Default Service Standard.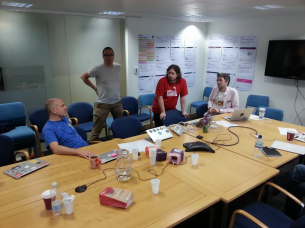 Assisted digital is point 10 of the standard, and the assisted digital action plan helps service managers to prepare for their assessment by listing the questions that might be covered.
Planning appropriate assisted digital around good research into user needs ensures that nobody is excluded from the service and that taxpayers' money is used to best effect.
Whether a service does or doesn't pass, we usually make specific recommendations for the service to act upon.
To help service managers further, here are some of the most common recommendations we make after assessments:
Carry out good research
1. Talk to users of your service
You should carry out research with assisted digital users of your specific service. Only then can you plan appropriate assisted digital support based on their needs, barriers and numbers.
Don't rely on general departmental research, or research carried out with users of other services, as this doesn't give adequate information to base decisions on.
2.  Get the full picture
You should find out where your service's users are currently getting help from, including non-departmental sources such as charities, companies, friends, and family members. This gives a full picture of how much and what sort of support your service's users need.
3.  Create assisted digital personas
You should develop assisted digital user personas, to help model your assisted digital users' journeys through each channel of assisted digital support. Some services do not consider user journeys and aren't developing well-informed user personas.
4.  Include assisted digital users in digital service design
You should include assisted digital users (those with low or no digital skills) in your research around the on-screen part of your service, not just the assisted digital aspects. Government is designing services for everyone so this approach will ensure the digital service can be used by as many people as possible.
5.  Keep on researching
Good research and user testing should not be confined to the discovery and alpha phases. You should continue to carry out research into your service users' needs and test the assisted digital support, even when the service is available to the public. This enables you to iterate the support and ensure that it continues to meet user needs.
Design appropriate support based on your research
6.  Make sure your support is focused on users who really need it
Good research will help you understand whether your service's users are most appropriate for assisted digital, digital inclusion or digital take-up approaches. These are related, but different. Some services design assisted digital support based on user research carried out with users who have good digital skills but are reluctant to try digital channels. These users are more relevant to digital take-up approaches.
7.  Help users to build digital skills and confidence
Where appropriate, you must factor digital inclusion plans into your assisted digital support. You might do this by signposting users to digital skills training opportunities. Or you could deliver the support in such a way as to help users to build their skills and confidence. They are more likely to then complete the service on their own next time, and to be able to make the most of the broader benefits of being online. The digital inclusion strategy has more information on how departments can approach this.
8.  Make sure the support is sustainable
You must know the expected costs and volumes of each channel of the assisted digital support for your service. This includes being ready for increases in demand as alternative channels withdraw. You must also ensure support is in place for users who currently choose to pay intermediaries or rely on friends or family. These users may choose not to rely on these sources in the future.
9.  Test support scripts
You should test the scripts that are being used by the people (or automated services) who deliver the assisted digital support, like Ministry of Justice did with prison visits. This enables you to find out where improvements are needed, and make iterations accordingly.
Prove your support meets your users' needs
10.  Measure the performance of your assisted digital support
You must measure the performance of your service's assisted digital support. This should include user satisfaction and decrease in the number of assisted digital users. You must enable full and frank feedback from your users on their satisfaction with the support and their ability to complete the digital service on their own next time.
You must show that users think the support is easy to find. You might achieve this by displaying information where users are already seeking support. This might include communication channels and on your service's GOV.UK start page.
You must also evidence that users think the support is available at appropriate times and places, with acceptable wait times and with appropriate technology available.
Follow Ben on Twitter and don't forget to sign up for email alerts