I'm a design researcher from the Helen Hamlyn Centre for Design, working with GDS on a project looking at how assisted digital support can meet the needs of older people. So far, I've been blogging about the work I've been doing over on the GDS blog. In my previous blog post, I outlined my early design ideas, and said I would use the next stage of  the project to focus on some specific interactions on GOV.UK.
So over the past four weeks, I've been looking specifically at how assisted digital users can be supported through the electoral registration process, one of the exemplar services currently undergoing digital transformation. Through looking at older people's experiences with this service, I wanted to draw out issues and challenges that may also apply when completing other government transactions. I would then focus potential design solutions on addressing these issues, allowing me to develop ideas that could help assisted digital users use a range of services on GOV.UK (not just electoral registration).
Research findings
I conducted interviews and workbook activities with seven people aged 62-90 years, who are either not online at all or have limited knowledge of the internet. One of the things I found out was that after retirement, the people I spoke to had become much more involved in their community and more aware of ways to participate in it, such as volunteering and voting.
The older people I spoke to fell into three categories in relation to electoral registration:
Those who know they need to register to vote
Those who do not know they need to register to vote
Those who do not vote
The interviews revealed some common issues faced by my research participants with regards to electoral registration. Some of these issues echo some of my earlier findings about the challenges the older people I have been researching with face when attempting to complete digital transactions in general. The most significant issues expressed were:
Some participants lost their electoral registration as a result of moving home
Many found that it takes a long time to register to vote via post, resulting in many steps, with little feedback about the success of the process
Repetitive form filling has resulted in user errors for many participants
Some were confused by the possibility of registering in multiple councils
Many feel that electoral registration is not fun, and that if it's not going to be fun it should at least be efficient and quick
Many often do not have all of the information they need to register to vote, particularly if they are registering at libraries or community centres
Design principles and potential solutions
In developing potential solutions to these issues, I looked to older people's existing routines, technologies and locations so that assistance offered to complete the electoral registration service, or any other service, was convenient and natural. To do this, I asked myself questions such as:
what is already in older people's wallets?
what do older people already do at home?
where do older people go during the day?
I also wanted to enable people to return to any chosen point in the transaction. Through my research, I found that the people I spoke to often needed to save their transactions and return to them at a later date. In some cases, this was because they did not have the correct information with them, so wanted to save the transaction partway and return to complete it when they had more information, or after confirming a piece of information.
Another reason was that, for my research participants, minor memory problems had started to set in at around 65 years. This meant they found tasks easier if done in real time and spontaneously, potentially while completing another task. For example, an older user may already be at the post office sending a letter, when they realised that they could register to vote. Enabling them to save their transaction partway through completing it could enable this.
As with my previous design ideas, the potential solutions below are initial ideas only and are not the plans of GDS.
1. Use the television for access to GOV.UK services
Current TVs are simplified but capable computers and can serve as a portal to the web. Many of my research participants find the television a more common and comfortable technology to use than the computer, where anxiety is reduced.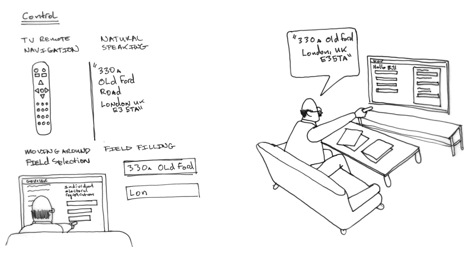 GOV.UK services could be completed using the remote control, using basic up and down buttons to select fields. Additionally, with many new TVs capable of voice control and input, fields could be filled in using speech. When a field was completed, the control would advance to the next field.
2. Allow older people to build online GOV.UK profiles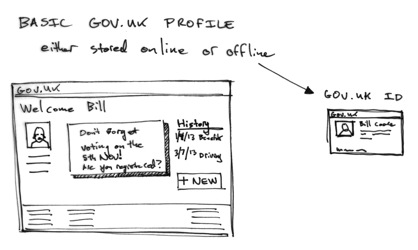 A personal profile could provide benefits that many of the people I spoke to would want, such as integration with their personal calendars, saving a history of transactions (including those completed with someone else's assistance), and being able to save a transaction partway through completing it, to return to later. Simple limited profiles could also include auto fill, which would make entering personal information such as names, addresses and phone numbers, efficient and consistent across transactions.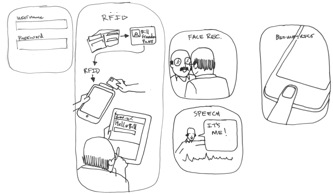 Some of my research participants expressed resistance to the idea of profiles, because of the assumption they would have to remember a password to access a profile. However, there are options now for more natural logins, such as biometrics (as found on the new iPhone) and simple facial recognition which can be used on any device with a camera. I tested the latter with my research participants, using a programme I wrote. Some participants were interested in this idea, while others were more worried. All were curious about it.
3. Store GOV.UK profiles offline using existing ID or by developing a GOV.UK card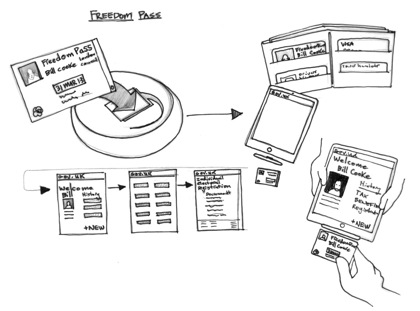 Embed GOV.UK profile information into existing ID that older people regularly carry, to enable more efficient and spontaneous use of online government services from a user's home, a public location such as a library, post office, friend's phone, or with a person who is assisting them. People are already very aware of their wallets and purses, where important information is kept, so this would fit well in these spaces.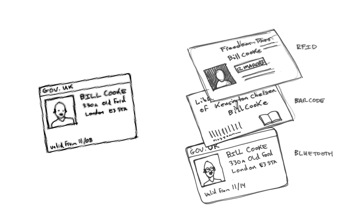 Alternatively, develop a GOV.UK card that would live in an older person's wallet or purse, and would help them access their GOV.UK profile to use a range of online government services. The card could be RFID, barcode, or eventually Bluetooth enabled. The last option would allow it to be used on any Bluetooth enabled device (such as a computer, tablet or phone), allowing for remote access to a GOV.UK profile.
Next steps
Many of the older people I have spoken to are interested in using technology to facilitate a different, more interactive relationship with government and with GOV.UK. The ideas above outline ways in which assisted digital users could be supported to use online services, while also enabling them to develop a more independent relationship with GOV.UK.
A large number of my research participants said they have become more involved in their communities as they have grown older, this has been particularly true after retirement. I'm interested in exploring further how this relationship to one's immediate community could be facilitated through GOV.UK to some extent, even for those users who are partially or not at all online.
In the next few weeks, I'll be focusing on another exemplar, lasting power of attorney, to look at the particular challenges this service poses for older users, and to develop my design ideas further. I look forward to sharing what I find.
Don't forget to sign up for email alerts