GDS Assisted Digital lead Alan Rider plays back some of the highlights from the cross-Government retrospective workshop on boosting assisted digital capability.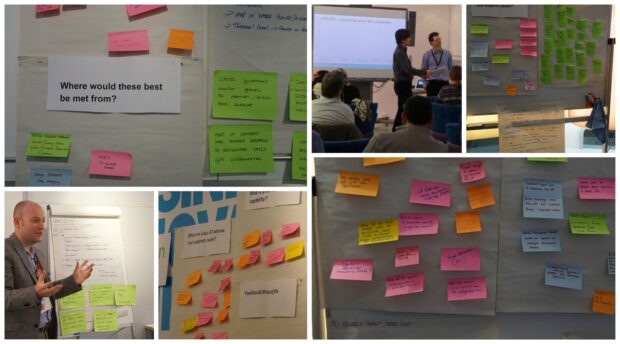 "It's good to talk", "many hands make light work", "greater than the sum of its parts" - take your pick of any of these phrases, but it's always better to work together than in silos and in that spirit the GDS assisted digital team, hosted by the Department for Business, Innovations & Skills (BIS), ran an assisted digital retrospective workshop on the 24th February 2016 in London with a range of central government departments and services.
'Retrospective' is probably a misnomer, as the workshop wasn't just looking back, but very much looking forward.  Since the Government Approach to Assisted Digital was published in December 2013, a lot has been learnt about researching user's assisted digital needs and developing support to meet those needs.  This knowledge and experience is spread across services, so there is heaps of potential to share our collective capability more widely and for services to work together to help each other design and deliver high quality support.  The workshop aimed to identify ways to develop and nurture that capability.
A helping hand
On arrival everyone was asked to indicate where they felt their service/department currently sat on a scale, starting from general awareness of assisted digital through to assisted digital being fully embedded into service design and business as usual processes. This showed a range of capability currently exists, pointing to an opportunity to develop self help networks, with more experienced services advising and coaching those new to the area.
To share examples of best practice, Show and Tell sessions followed from BIS and Home Office Digital on forming user researcher communities of practice and creating centres of excellence in assisted digital.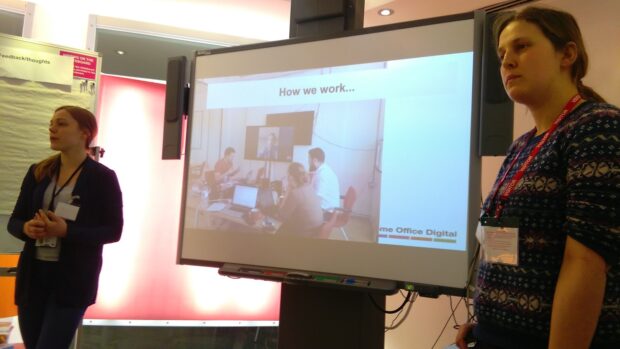 Attendees were then split into groups and asked to consider: what advice and support services needed when researching and developing their assisted digital support; how those needs could best be met, and; what current capability exists to do this (along with suggestions for increasing it).  All captured on a sea of post it notes of course!
It's good to talk
As noise levels quickly rose, with everyone talking animatedly in their groups, you could sense the collective brain power in the room working.  There were too many points to list in full, but here is a flavour of the findings:
many services highlighted the value of sharing experience and examples of best practice and linking up with other departments to pool resources and carry out joint pilots;  

a number of services were similar in nature or shared common user segments. Rather than have to start from scratch each time, it would be good to be able to access and reuse relevant user research, analysis and approaches from across government;

there was a feeling GDS support and direction has helped to embed assisted digital into departmental culture and processes, helping remove blockers;

there are common policy and legal issues that would be good to tackle together for everyone;  

service design patterns would help define what good assisted digital support looks like.
There were also lots of ideas generated for improving capability, such as:
boosting in-house capability through building centres of excellence and offering access to other departments;

forming cross-government networks and communities of practice offering mentoring and secondment opportunities to those new to the topic;

creating collaboration spaces to share experience, research and data;

sharing departmental road maps of services developing assisted digital support to identify opportunities for joint working;

publishing regular GDS and departmental blogs to highlight best practice examples.
Go for it
The key finding from the day was that departments and services need to work together to make these ideas happen.  Some things can happen quickly.  Everyone at the workshop went away with a list of contacts from the day so they can begin talking, sharing experience and expertise, and forming networks and communities.  Other things may take a bit longer to get up and running, but by pooling resources, working together and starting small these are all achievable.
All in all it was a great day and a brilliant example of what can be achieved with everyone working together.
Follow Alan on Twitter and don't forget to sign up for email alerts